Our printAI determines the correct orientation of your photos. However, you can manually rotate them 90° at any time.
In addition to rotating photos, you can also crop a photo or change a template. The latter allows you to change the number of photos on a page as well as their orientation.
How to rotate a photo
To rotate the photos in your design:
Select the photo you want to rotate; this will show the Edit Photo screen
From the toolbar at the bottom of the screen, tap Rotate

Repeat as needed to reach the desired orientation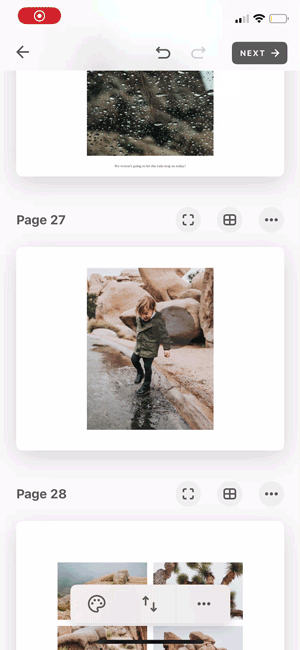 Note Ornament frames will show a white circle at the top to represent where the ribbon goes.
Bear in mind
Placing portrait photos into landscape frames, and vice versa will mean parts of your photos won't be visible. Use your finger to move your photo around the frame, and keep an eye on the Print Quality Meter to ensure your photos will look their best. Check out a guide to print quality scores for more information.