The Popsa app features a wide selection of templates, and our intelligent printAI software ensures you get the best layout for your photos. If you'd like to enhance your designs by changing a template, or by adding captions and text to a page, it's easy to do so.
Templates support one to nine photos per page. You can also select text-only templates.
To maximise the number of photos in your book, we recommend choosing a template that uses four to five photos per page. If your photos are lower resolution, using more photos per page will increase their print quality score.
Our templates come in a variety of themes:
Minimal

Collage

Text

Overlapping
How to change a template
From your design:
T

ap the Template icon

on the top right of the page you'd like change

Tap a filter at the top of the screen, or scroll through the templates
Tap on the desired template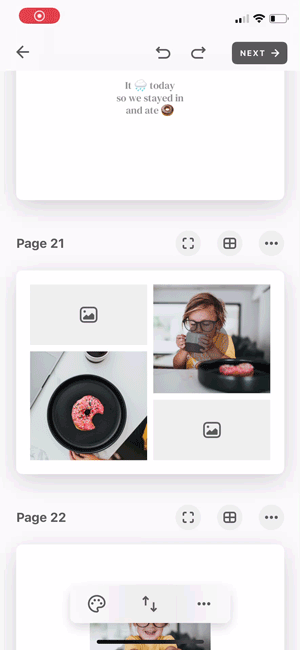 Changing templates might remove photos from that page. For example, if you change from a two-photo template to a one, this will remove one of the photos. If you then revert back to a template that supports two or more photos, the removed photo will refill the space.
If you want to swap to a template with fewer spaces, but still keep every photo, move your photos to another page before changing the template.
You can leave empty spaces for photos in your design.