When uploading and editing your photos, be sure to check the Print Quality Meter in the Edit Photo screen to ensure your photos look their best when printed.
The quality meter scores your images out of 10, updating in real time as you zoom in and out to crop your photos. Photos with a low print quality score will be more likely to pixelate and blur when printed.
To ensure a quality final product, select photos with the highest resolution possible.
Blurry or dark photos will not be detected by the Print Quality Meter. Learn how to troubleshoot blurry photos and dark photos to avoid this.
How to review your print quality score
Tapping any photo on a page opens the Photo Editor. Here, you will be able to review the Print Quality Meter. Tap the Fill icon or double-tap the photo to make it fill the frame. If this action changes the scale of the original photo, the Print Quality Meter will reflect this change.
Once you've cropped a photo, tapping the Print Quality Meter displays a message that explains the quality rating. This also shows the scale of the original photo as a percentage.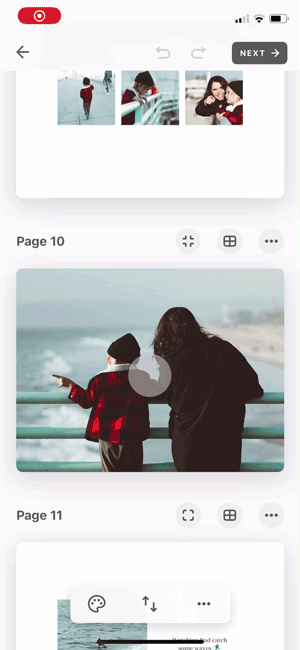 Note We recommend aiming for a score of 7 or above (out of 10).
Note Scaling up (zooming into) a photo will lower its resolution.
How to improve your print quality score
To ensure you receive the best print quality, we recommend you always upload high-resolution photos. We understand that this may not always be possible, so you should monitor each photo using the Print Quality Meter, and wherever possible avoid including low scoring photos.
Scaling a photo to a larger size will lower its resolution. If you have zoomed into a low-resolution photo, zooming back out will improve the score. We have a selection of templates that provide different layouts and frames for your photos. Using a template that presents your photos in the correct orientation, without the need to zoom in, will give you the best print quality score.
You can also replace a photo or move your photos around, which will help you achieve a higher print quality score.
Tip Avoid using photos that have previously been enlarged.
Tip Place lower-resolution photos into smaller frames and check their print quality score.