When you connect to Google Photos, you can use Google's intelligent search tool to find your photos faster.
You can use the dates or categories provided, or use your own search terms. You can also use suggested albums to quickly find organised photos of events, holidays, or photos from specific dates.
To connect your Popsa account to Google Photos, you'll need to grant permission on your device. This allows you to upload your photos when using the app – and of course, Popsa's strict privacy policy and security practices protect your data at all times.
You can learn more about how to select photos from other apps, including connecting to Google Photos.

How to search your photos
In the Popsa app:
Select a product and tap Next
Select the Google Photos tab
If you haven't already, Connect the app
Tap the Search icon in the bottom left of the screen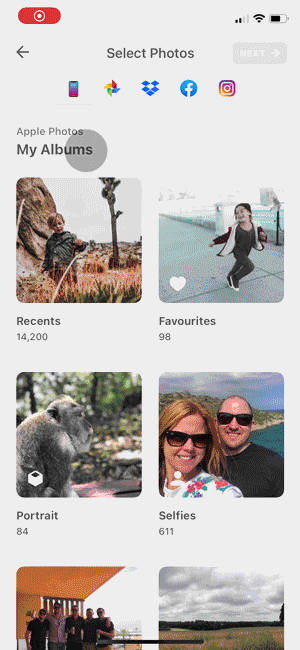 After searching for photos, you can tap Select All to import all photos from the results page or album.
Note A maximum of 601 photos can be selected at one time. This will position four photos to a page by default. If you change a template, you can feature up to nine photos per page.
Note Photos in your Google Drive account will not be accessible from your Google Photos account, as they are two separate services.
Note Google Photos is currently the only app that offers this search functionality.
Bear in mind
You can only search photos from your Google Photos account; this method won't search photos on your device.

Photos can be added or changed at any point. To accommodate more photos, you can add pages or change a template.