Selecting and uploading photos is easy with Popsa. You can quickly access your device's curated photo albums, and import photos from multiple other apps.
Photo sources
You can import photos from the following sources:
Google Photos

Dropbox

Facebook

Instagram

Your device
How to connect to another app
In the Popsa app:
Select a product

Configure product information and tap Next

Select a photo source, Google Photos, Dropbox, Facebook, Instagram or your device

If required, Connect the app

Select a photo album

Select each photo you would like to use

Tap Next to continue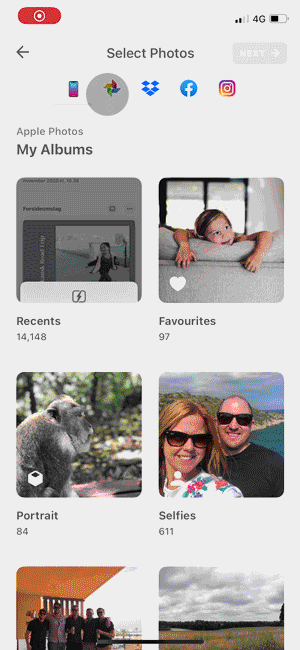 Bear in mind
Select all photos
When browsing your photo albums, tap Select All to import every photo from that album. This is useful if you've already created a separate photo album before designing your item.
Note A maximum of 601 photos can be selected at one time. This will position 4 photos to a page by default. If you change a template, you can feature up to 9 photos per page.
Multiple accounts on connected apps
You can only log into one account from the same source at once. (For example, you can log into your Facebook account and Instagram account separately, but not two different Facebook accounts at the same time.)
Before designing your Popsa product, you'll need to ensure all the photos you want to use are saved in one account on the app(s) you're using.
And remember, if you log out of connected apps and photo sources or log out of your account too soon, your photos may not have uploaded. Always check they have uploaded first.