Adding and removing pages with the Popsa app is simple.
All of our Photobooks have an extra sheet in the front and the back to protect your prints from dust. At the back of your book you'll also find an identification page that has a barcode, along with your order number, printed on it. We use this page to ensure that your book contents and covers are correctly bound together during the printing process.
Note Our products have a minimum number of pages. You won't be able to remove pages beyond this minimum.
How to add pages
T

ap the Options icon

in the toolbar at the bottom of your layout

Tap Add More Pages from the menu sheet
Tap the Plus icon to increase the number of pages you'd like to add
Confirm by tapping OK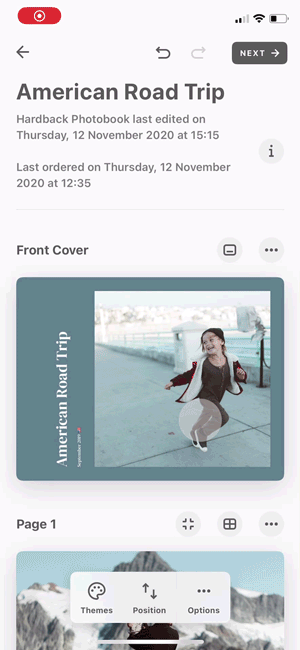 When you add pages you'll be prompted to add photos to those pages. You can either do so immediately, or tap Done in the Select Photos screen to return to your layout. If you choose not to add photos to your new pages immediately, you can still add photos and change a template later.
Your new pages will automatically be added to the end of your design.

To move pages:
T

ap the Position icon in the toolbar to open Rearrange Pages

Long-press and drag your page to its new location

Confirm your changes by tapping the tick icon, or cancel your changes with the cross icon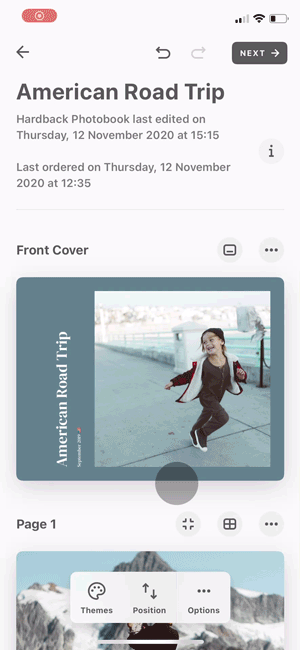 If you wish, you can also insert a single page. To do so:
Scroll to where you wish to insert your new page

T

ap the Options icon

on the top right of the page

Tap Insert New Page from the menu sheet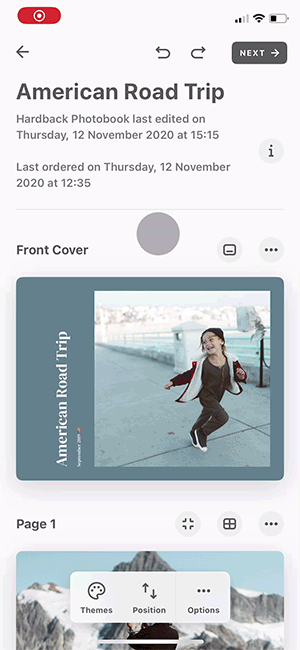 A new blank page will be inserted directly above.
You can move your photos and even delete pages if you have too many.
Tip When you place an order, any frames you've left empty will be filled with the colour of your chosen theme. No frame border will be printed for empty frames.
Blank pages in Photobooks
Photobooks have a minimum of 20 pages. Due to the manufacturing process, if your Photobook is an odd number of pages, the back of your last page will be blank. You won't be charged for blank pages.
Blank pages in P
hotobooklets
Photobooklets have a minimum of 12 pages. Due to the manufacturing process, if your Photobooklet is an odd number of pages, you may find some blank pages at the back of your booklet. These will be the same colour as your page theme. You won't be charged for blank pages.