Titles are great for adding context to your photos. You can use them to catalogue a series of photos, express your feelings, highlight important names and dates, and more.
Popsa has a variety of cover templates, each with suggested text box layouts, for you to edit and format. Changing the template is easy, and your title and subtitle will adapt to fit the new template.
For internal pages, you can also add captions, and some templates allow you to add text to the page itself.
Note Some cover templates provide more options for editing your text than others.
Tip Subtitles cannot be added to ornaments.
How to add and edit a title and subtitle
Once you configure your product and select your photos, you'll be prompted to enter a title and add a subtitle. Tap the text editor to edit your title. To confirm, tap Create in the top right-hand corner.

To edit your title afterward:
T

ap the Menu icon

on the top right of your cover page

Tap Edit Title in the menu to launch the text editor
Add your title and subtitle
Confirm by tapping the Tick icon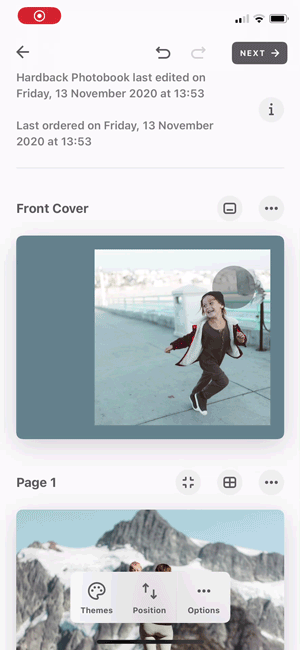 Alternatively, you can edit your title by tapping the text on the cover.
You can also:
T

ap the Options icon on the floating toolbar
Tap Edit Title in the menu to reveal the text editor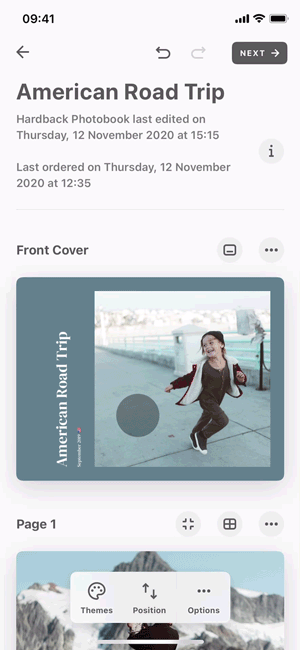 Editing options vary depending on your chosen cover template. To change your template:
T

ap the Template icon

on the top right of your cover page

Select the desired template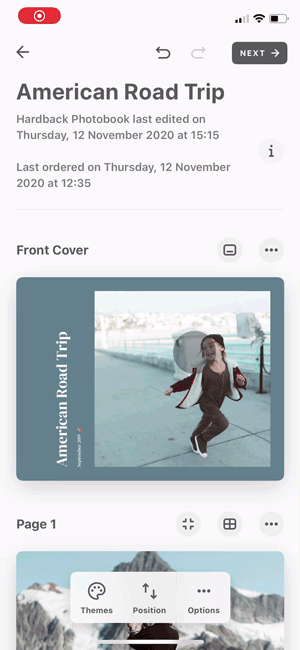 Depending on your cover template, you'll be able to edit things like:
Text alignment

Text size

Font style

Horizontal and vertical positioning
Bear in mind
Titles and subtitles are limited in character length, as shown by the counter above the keyboard

Undo and Redo buttons are provided when editing the title

You can change the title and subtitle as many times as you like