A tracked shipping reference is required to locate your shipment throughout the delivery process.
Tracked and Rush Shipping are the only shipping methods with tracking information. You can view shipping couriers by country to find out which courier will be delivering your order in our complete guide to shipping.
To find your tracked shipping reference in the app
Open the Popsa app

Tap the Order History icon

Select your tracked order

From the Tracked Shipments section tap View Tracking Details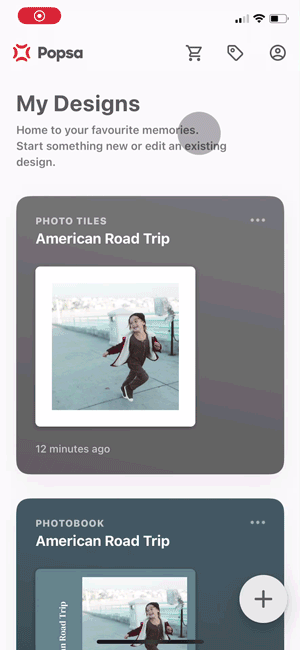 Note The tracked shipping reference format will vary depending on the courier.
If no tracked shipping reference is shown
Please note, only Tracked and Rushed Shipping options have tracked shipping references.
If you chose Tracked or Rush Shipping but you have not received your tracked shipping reference, please contact our customer service team with your order reference number.
Dispatched notifications are sent via the Popsa app, and to your email address. If you don't receive the notification in the Popsa app, you can still track your shipment from the notification email.
Turn on notifications
To receive notifications about your orders via the Popsa app, tap the My Account icon. From the Notifications section tap Notification Preferences.
There are 3 categories of notification:
Critical information


Notifications about your orders, advice on the app, and tracking updates

News


Latest information on new products and features in the app

Discounts


Occasional special offers for Popsa products
Critical Information should be switched on to ensure that you receive regular updates on your orders, along with any associated tracking information.
To receive notifications on your device you will first need to turn them on. If you need to do this, tap the device settings button and allow notifications from your device's system settings.