There are multiple ways to pay in the Popsa app, including the option to pay later with Klarna.
Payment methods differ by country. When you make your first payment, your details will be saved in the app for a faster checkout experience in future.
If you require a receipt for business or personal reasons, you can request a VAT invoice after payment. For more information about the breakdown of your bill, read our guides on how your bill is calculated and how discounts are applied.
Pay with your debit or credit card
Simply go to the checkout, enter your delivery address and choose a shipping method; our guide to shipping options and prices can help you.
Tap Credit/Debit Card.

Type your long card number.

Enter the expiry date

Input your CVC security code.

Tap the Tick icon in the top right corner to confirm your order.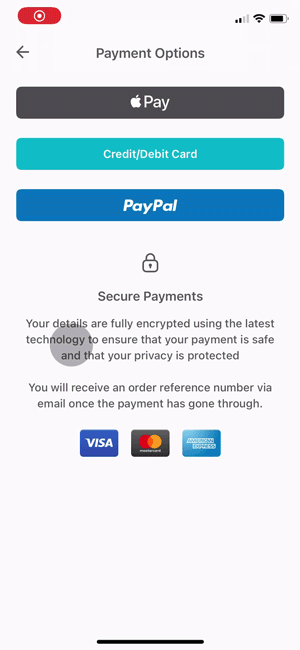 Note Popsa uses high-quality, industry-standard encryption to keep you safe, your payments secure, and your privacy protected.
Use Apple Pay or Google Pay to make your payment
Apple Pay and Google Pay are unique to iOS and Android devices. They're quick, simple and secure methods of payment.
Apple Pay and Google Pay must be set up on your device before you can use them. You should refer to your manufacturer's user guide to see if your device supports either of these. After setup, making a payment with these options is easy.
At checkout, tap Apple Pay or Google Pay. This will take you to a breakdown of your bill.
Tap Confirm and an Apple or Google window will appear

Depending on your device, you'll then be asked to authenticate your purchase with either your fingerprint or face recognition

If you have used Apple Pay or Google Pay before, the option will already be in your basket, making the process even quicker
Using this payment method will automatically select your shipping method and shipping address. You can change these selections, as well as the payment card being used, from the menu sheet shown.
Pay using PayPal
After choosing PayPal tap Confirm; the following message will appear. "Popsa wants to use paypal.com to sign in." Tap Continue and sign in to your PayPal account to proceed.
Your PayPal information will be saved for quicker payments on future orders.
Additional options for German and Austrian customers
Alongside the other payment methods, German and Austrian customers each have an extra option.
German customers can use GiroPay

Austrian Customers can use EPS

If you're sending a package to Austria or Germany from another country, you won't be able to use EPS or GiroPay
Once you select EPS or GiroPay, you'll be taken to the EPS or GiroPay website to sign into your account. Once you've signed in, your payment will be processed with Popsa.
Note Your order will be processed, but until you link your EPS or GiroPay accounts by signing in, your payment will not be processed, and your order will be placed on hold.