Popsa uses a thicker paper stock to give our products a premium feel – specifically, a 200gsm recycled stock.
We can finish many of our items in matte or gloss. If your device supports it, you can see the differences between matte and gloss finishes by exploring your design in 3D with Augmented reality.
You can choose your preferred paper finish and change the size of your design in the Order Details screen, before adding your items to your basket.
How to change the paper finish
Using the Popsa app:
Select the design you'd like to change the finish on

Tap Next in the top right-hand corner
From Order Details scroll to Upgrade Options
The current finish will be shown; either Matte or Gloss
Tap the current finish and select your preferred choice from the menu sheet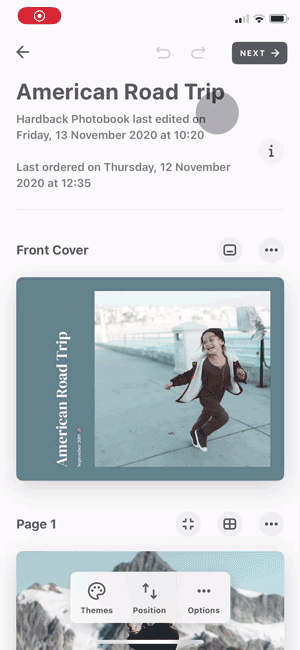 Note Photobooklets are printed with a matte finish and cannot be changed to gloss.
Soft-touch matte cover
All of Popsa's matte covers feature a premium soft-touch finish. If you do not want a soft-touch cover, please select the gloss finish.
Gloss finish
Gloss pages enhance the colours of your photos, making them feel more vibrant. Gloss also provides a protective coating with a shinier, more reflective appearance. If you're ordering prints, you will receive gloss by default. If you'd prefer matte prints, you need to manually change your finish.
Note Gloss is not available on photobooks in the USA.
Matte finish
A matte finish has no noticeable shine and no reflective glare. It helps to enhance the texture of your images. Matte finishes are fingerprint resistant, which can be useful for family photobooks.