From time to time, Popsa releases promotional voucher codes that you can use against the purchase of our products. These are typically sent to the registered email address of customers who have signed up for marketing communications from Popsa.
When released, voucher codes can be found in the Redeem Codes & Offers section of the Basket. This is where you can store, apply and add voucher codes to your order.
Turn on notifications from Popsa to ensure you don't miss out when a new voucher code has been released.
Each voucher has its own expiry date and terms and conditions. These details can be found on the voucher itself.
If you are a new user your welcome discount voucher code will automatically be applied to your first order.
Only one voucher code can be applied per order.
How to redeem a voucher code
In your basket scroll past your order items:
Tap Redeem Codes and Offers
To redeem a new voucher code, tap Enter Voucher Code
Enter the code exactly as shown, without any spaces
Tap Submit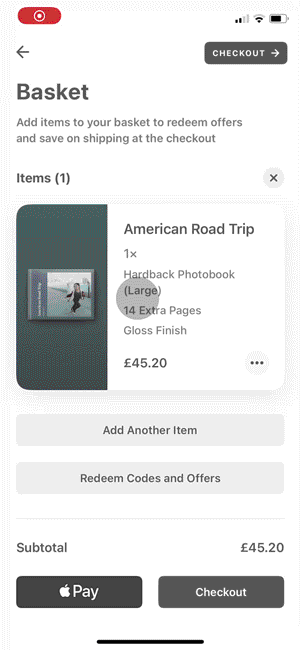 You may also have existing voucher codes waiting to be redeemed in your Redeem Codes & Offers section. To add these to your basket tap Apply on the offer you'd like to add to your order.
You can apply a voucher code after placing an order if you forget to do so.
Difficulty applying a voucher code
The voucher code will only work if entered correctly. If you don't enter the code exactly as it's written, without any spaces, the code will not be applied.
Each voucher code has an expiry date. Check the terms and conditions of your voucher to ensure it's still valid.
Note If you still experience issues with your voucher code please contact our customer service team for assistance.
Volume discounts
Some Popsa products, such as Prints, Ornaments and Photo Tiles, have quantity-based discounts. A guide to volume discounts explains how they are applied to your order.