Our augmented reality (AR) feature lets you see how your photobooks or photobooklets will look in your home environment. You'll see a 3D-rendered version of your book that you can check from all angles – a useful final check before printing.
The feature is currently only available on iOS devices, but we're working to bring this to Android too.
Tip Make sure your Popsa app is running the latest version. Check the App Store for updates if you don't see the option in your app.
Preview in 3D/AR
Select a Photobook or Photobooklet design

Tap Next in the top right-hand corner
Tap Preview in 3D

Long Press and drag to rotate your Photobook

Tap the pages to move through your design
Tap on AR to view your item in your environment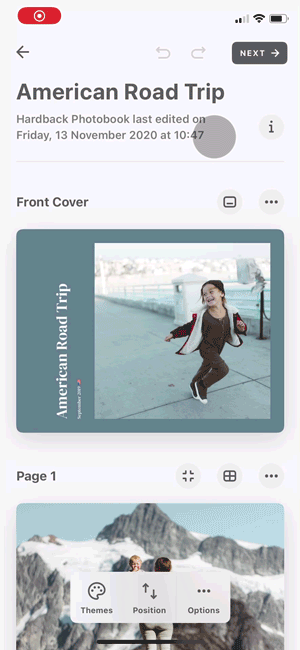 You can explore and interact with your design using gestures such as:
Long press and drag to rotate your Photobook

Pinch to zoom in and out

Tap to turn pages
You can also change the Background Colour by tapping the palette icon.
Upgrade your product specifications in 3D/AR
When in 3D/AR Mode, an Upgrades option is located in the bottom right-hand corner of the screen. Tap this to see the what upgrades are available for your design. Upgrades include the option to change the paper finish and change the size of your Photobook.
When you upgrade your Photobook in 3D/AR, you can see the updates in real-time.
Preview your ordered design
Tap Order History

Locate the design you want to preview

Tap Options
Tap Preview in 3D